In Honor of Suzanne Stork
Dear milepoint friend.
This is a very sad day for our community, we lost one of our most loved members, Suzanne, last night.
Suzanne and her husband Carl [USER=957]@Seacarl[/USER] came to most of our events and we became great friends.
Suzanne was a very kind person with a huge heart and had an impact on everyone she met.
Here's a picture of Suzanne up in the wheelhouse of the first Lufthansa A380 on SMD2:
Courtesy of [USER=23]@Wandering Aramean[/USER]
and here they both are in front of a Lufthansa A340 on SMD3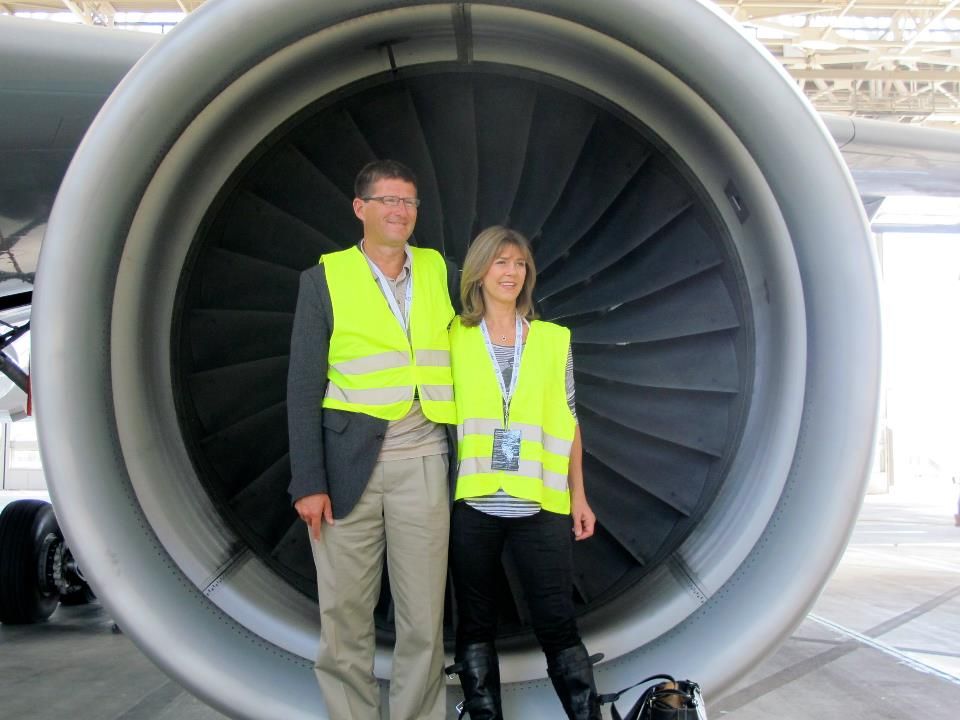 Cancer got my Dad at 43 and now it got Suzanne way way way too early. It has a huge impact on everyone's life and we need to keep fighting this terrible disease.
That's why we are dedicating this MegaDo to our late friend Suzanne and our fundraising efforts this time around will be dedicated in her honor to the cancer charities of her choice
We've raised 90K to Susan G Komen and 60K to Livestrong at previous MegaDo's. Now it's personal, we're going for a fundraising record for SMD6!
And if Carl is up to it, there's a seat with his name on it as our very special guest.
Thank you for your support and for helping us honor Suzanne.
Join us for the FIRST ever SkyTeam MegaDo in October 2018 www.megado.com
Posted : February 24, 2015 8:57 pm
Thank you, Tommy. That is a great tribute. I haven't had time to be on Milepoint much, as you might imagine.
Suzanne was a wonderful woman, friendly and kind toward everyone she met. She not only tolerated my idiosyncrasies, she embraced them as she embraced life. I cannot imagine a more fun fellow traveler or wife.
The very last night before Suzanne got the results that her cancer was growing again, she took our daughter out on a girls night to Dirty Dancing. The next day the whirlpool of despair began.

I will be happy if you click "Like" below
Posted : February 24, 2015 10:38 pm
Love that you guys are dedicating SMD6 to the wonderful, friendly, adventurous, and ever-vibrant Suzanne. Hate that it is under these circumstances, but I hope the fundraising records are indeed shattered for her. I'm sure they will be.
Posted : February 25, 2015 12:02 am
I first met Carl and Suzanne on SMD2. The things that I remember about her specifically are that she had this wonderful, infectious smile, and an engaging, lively, and "I'm up for anything" type of energy. I thought it was amazing that she and her husband were both so passionate about travel, and were doing SMD2 (and many other subsequent events) together. Frankly, I was a bit jealous of Carl in that he had found a life partner who was willing to engage in (and even encouraged) the crazy behaviors and weird flight routings we voluntarily choose to fly.
Perhaps Suzanne was originally less of an avgeek than Carl, but once she got into this hobby of ours, she was all-in, and not only totally supportive, but also wanted to make sure that she was part of the action.
I will miss seeing her at future events; it will feel like a part of the soul of the group is missing. And indeed, I miss her already.
What a wonderful tribute it is to dedicate SMD6 to her and her memory. Be strong, Carl, and lean on the community if and as needed. We're here.
Godspeed, Suzanne. May heaven be filled with LH FCT service, the complete collection of LH rubber duckies, limo service on the tarmac, flat beds in suites, endless champagne, and caviar to fill your heart's content.
Lifetime 1K
EXP
Diamond
Gold
Gold

23F
9C
22C
19C
Posted : February 25, 2015 1:57 am
[USER=957]@Seacarl[/USER], I posted this in Teh Penalty Box earlier, but will say it again here...
I am so very sorry. Cancer is an awful thing and robs us of so much, often far too soon. Nothing can take away the pain or fill the void of Suzanne's loss, but know that you've got many friends here who care and are sending positive thoughts, energy, and prayers your way.
Posted : February 25, 2015 2:54 am
DYKWIA? Really? (even though I haven't posted 12 program logos?)
Don't forget about The Lesser Known Blogs especially Frequent Whiner
Posted : February 25, 2015 6:55 am
Always smiling, always having a good time, always willing to listen and advise.
-David
DYKWIA? Really? (even though I haven't posted 12 program logos?)
Don't forget about The Lesser Known Blogs especially Frequent Whiner
Posted : February 25, 2015 6:56 am
My wife and I met this wonderful couple when we were about to get off a SEA-SFO flight. Carl and Suzanne were sitting across the aisle. When they got up to leave the plane, I noticed the FT/MP bag tags. And then we chatted for a little bit.
They were headed to NRT that day IIRC.
Such a sad loss in our community.
my FM
Plat
Gold [B]
Silver
Red
Red
BluePlus
General Member
Dirt on:
Silver
Emerald Executive[/B]
Posted : February 25, 2015 10:01 am
Condolences to you, Carl.
Posted : February 25, 2015 10:43 am
A couple more photos I forgot I had (though I'm now pretty sure that the first photo above is not one I took 😳 ).
That was a great event.
Posted : February 25, 2015 11:27 am
Wandering Aramean, post: 2561616, member: 23 wrote: A couple more photos I forgot I had (though I'm now pretty sure that the first photo above is not one I took 😳 ).
Yeah, the first photo of Suzanne, above, is one I took in the LH A380 flight deck on SMD2. In fact, IIRC, I think that was the very first time I had interacted / spoken with Suzanne. Carl I had first met in the JFK LH Senator Lounge prior to the SMD2 outbound TATL flight.
Lifetime 1K
EXP
Diamond
Gold
Gold

23F
9C
22C
19C
Posted : February 25, 2015 12:11 pm
What sad, sad news. My heart goes out to Carl and Carl & Suzanne's daughter. My own mother died of cancer when I was 13 and I remember the strange feeling waking up the next day to find that the no one else realized that the world was fundamentally changed from the way it was the day before.
[USER=88]@tommy777[/USER]: Please extend whatever fundraising efforts will be conducted in Suzanne's name to the broader community so that us non-Mega-DOers can participate as well.
Posted : February 25, 2015 2:15 pm
Carl, you have my deepest sympathies for your loss. I met the 2 of you in Cancun a couple of years ago.
I too would love to support the fund raising on SMD6.
Posted : February 25, 2015 9:08 pm
Carl, I am so sorry for your loss. My condolences to you and your familes, Suzanne will be dearly missed by everyone who had the honor of meeting and getting to know her.
Like kellio, I met Suzanne in Cancun. To me, she will always be that joyful woman who loved life and those around her.
It is great to see the Milepoint and MegaDo community coming together in her name.
Milepoint Kiva Lending Team - helping people around the world!
Oh yeah, and I like to travel.....
Posted : February 25, 2015 9:44 pm
There will be a memorial service celebrating Suzanne Stork's life on Saturday, March 7, at 2pm at Safeco Field in Seattle, WA. Please pass the word to anyone who would want to know. Free parking will be available in Safeco Field Parking Garage (enter from Edgar Martinez Drive). If you are walking or taking light rail, you can enter Safeco Field from First Avenue South, near the intersection with Edgar Martinez Drive. There will be a reception to follow in the Terrace Club.
In lieu of flowers, Suzanne and I would be honored if you would consider making a contribution to a research fund in honor of Suzanne. Gifts can be made online at http://depts.washington.edu/givemed/give/?page=make&source=SSLCER Gifts made by check may be made payable to "UW Foundation." Please list the Suzanne Stork Lung Cancer Endowed Research Fund in the memo line and mail to: UW Medicine Advancement, Attn: Olena Nyzhnykevych, Box 358045, Seattle, WA 98195. Why this particular charity?
In Suzanne's final days, we discussed how she would like to be remembered. She asked that we establish a memorial fund to support research on lung cancer. If lung cancer among "never smokers" (like Suzanne) was a separate disease, it would be the 6th most lethal cancer in the USA, responsible for approximately 20,000 deaths per year. There are many new therapies for this disease and hope is on the horizon for an increase in cures rates. The speedy evaluation of these new therapies is critical in making them available to patients.
The Suzanne Stork Lung Cancer Endowed Research Fund will provide seed funds for innovative research. Every year, the endowment will help to support one project selected by researchers from the University of Washington and Fred Hutchinson Cancer Research Center, as the most promising in bringing new therapies to patients with lung cancer.
I will be happy if you click "Like" below
Posted : February 27, 2015 3:05 am