2018 Mileage Marathon - AA Exec Plat
September 19, 2018 4:59 pm
OK... time to start to document our trip to Beijing China! 🙂 Here is some forward planning info.
As I mentioned above, our two coach tickets to Beijing came to a total of $1006.00 US.
From an AAdvantage earning perspective, that means:
EQD 414
EQM 15,015
We are flying DEN-ORD-PEK-DFW-DEN on Saturday Sept 29th - Thursday October 4th. While we did not know this at the time of booking, this is China's "National Holiday" week... so everyone does the tourist thing at that time in China. What this really means to our trip is an unknown right now, but going at a time when everyone is focused on fun can't be all bad! :p
What is interesting about this routing is that AA will be cancelling it's ORD-PEK route in October (and going forward) due to lack of passenger interest. So, we will be taking advantage of that in one direction, and then that routing (via ORD) is gone for our return.
Taking advantage of existing credit-card-related free-hotel-night certificates, we are only using hotel points for one night of our trip! 😉
The day of arrival, after MANY hours on the plane, we get in at 8:30PM... so it made sense to stay near the airport: Hilton Beijing Capital Airport, to be specific. As my Hilton Aspire card included a free weekend night, that is a no-charge night stay at a hotel that is in the airport and has a nice lounge for Hilton Diamond members.


PEK is the worlds second busiest airport, and this is China's first airport luxury hotel. (Seriously... Marriott / Starwood has NOTHING near the airport!).
After a night's sleep and breakfast, we are off to the JW Marriott


I chose this based on availability AND the use of two free night certificates from my Marriott Premier / Premier Plus card... and since it's the national holiday, the rate dropped to 17,500 for the last night. So I look forward to seeing what the "Lifetime Platinum Premier" Marriott status will mean there! 😎
So that gives us two solid days (Tues & Weds) to see the sights. The JW is in the financial district, and near subway stations, so we may be able to hit some of the top places without setting up a tour.
September 23, 2018 4:49 pm
Upgrading for the Beijing Flight...
We requested ExP Systemwide upgrades for our Sydney trip, and Hawaii will likely be a standard ExP upgrade (as Hawaii is a domestic route) so that means that the Beijing trip has no "cheap" upgrade options for us. 🙁
Since the flight for the two of us was $1006, we are nowhere near full coach fare. That means a "miles and dollars" upgrade is our only option: $350.00 and 25,000 miles per person per direction. So that sounds like a deal until you add it up: $1,400 and 100,000 miles. 😮
Having flown to China in coach last year...

… we decided not to repeat that experience, so we made the commitment, bit the bullet, and did the upgrade.
Why? This is why:

Good news: AA let me use my wife's 100,000 miles as part of this upgrade, and since she also has an affiliate card, the 100,000 mile award was discounted to only 90,000 miles. AND... since most of those miles were bonus miles for getting the affiliate card, that means that the miles part was fairly non-painful.
Mildly good news: As I charged this fee on my Barclaycard AAviator Silver card, that means that I have earned 3x the AA purchase in miles resulting in 4,200 miles back. :confused: Not a lot, but miles are miles.
Annoying bad news: Upgrade dollars spent does NOT count toward the yearly EQD count. grrr... 😡
Remembering a better program: Back in the day, an ExP would be given an international coach-to-business upgrade free if "negative space" (an unsold seat) was available. Those were the days.
My next update will likely be AFTER the trip, so wish us a Bon Voyage! 😀
September 29, 2018 6:57 pm
Sitting in the ORD Flagship lounge with a few hours to kill before the flight to Beijing.
They have gummy bears. A cookie jar full of gummy bears. Those bastards!

So, top of mind...I saw that United raised its 1K spend requirement to $15k. Let's hope American doesn't follow suite and raise their EQD requirement, as that would be the final insult to domestic US travelers.
Sure, bag fees were just raised, as were drink prices, but if EQD goes to $15k, then I think AA will see a drop off in those that pursue ExP. And that means a revenue drop for AA.
Beijing trip -- DONE.
Going during "Golden Week" (China's national holiday) may not have been the best idea, as the crowds were massive at all the various sights, like the Palace Museum (Forbidden City) ...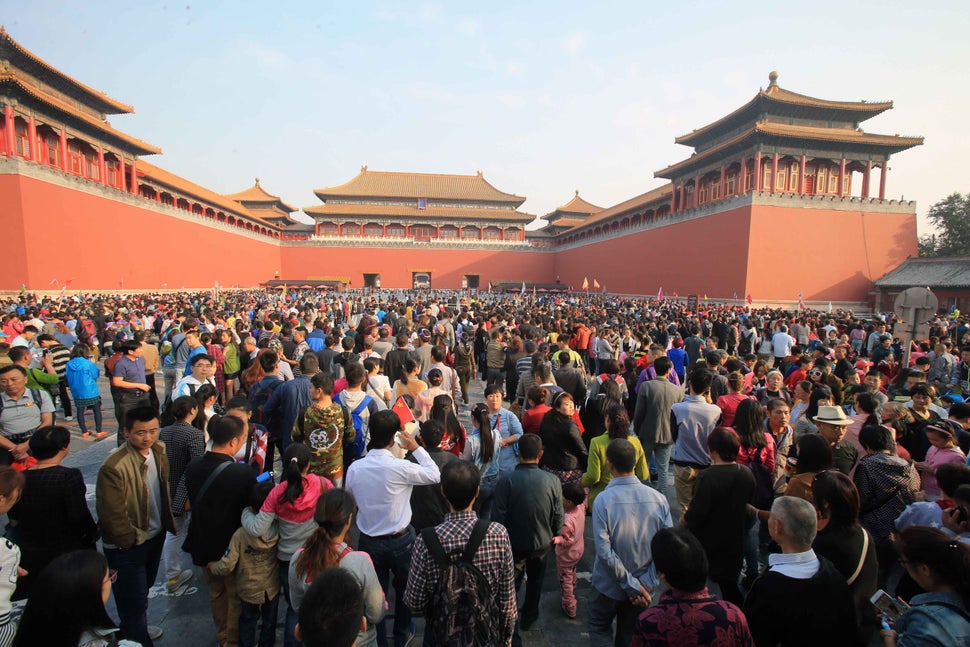 … The neat thing is many of those Chinese tourists in Beijing were from remote rural areas. As a result we are now in many photos where these folks will be going back to their village and saying "Really! We saw Americans! Blonde Americans!!! ". This is the first time that we had the experience that WE were the oddity!
DEN-ORD-PEK-DFW-DEN
EQD: 414 ….. EQM: 15,417
Running Total:
EQD: 10,014 ….. EQM: 71,685
This puts me just 3,315 miles shy of Platinum Pro, with Exec Plat still as my goal.
Some trip observations:
* Both long haul flights were Flagship Business class (no first class offered).
* The flight there (787-8) had better seating (forward facing / rear facing seats) that offered greater privacy. Seat was more "pod-like".
* The flight back (787-9) had all forward facing seats. Strangly NO privacy wall between the two middle seats in Business.
* The flight there had a Business snack spread, but not on the return.
* While this was a 6000+ mile transpacific filight, supposed "Flagship Business" service, the Casper offerings that AA was promoting was really lacking. Yes, there was a blanket and slippers, but no pajamas or bed topper.
* I was told by a flight attendant on the 787-9 that they plan to reconfigure the plane, taking out business seats and adding more premium economy seats.
* As my original ticket was very inexpensive, My frequent flier miles earned for this flight (total) was 4.554 miles. Embarrassing, really, for a 15,000 mile flight.
Generally, it strikes me that the American staff is none to please of the changes taking place in making the American Air offerings a lesser product, however they are powerless to prevent it.
10 days before the flight to Australia. Biz class seat availability -- 6 on the way there, 8 on the way back.
--------------------------
UPDATE: The flight is today!
Systemwide upgrades approved? No.
It was August 11th when I booked the flight to SYD. That's 2 1/2 months of waiting for AA to release some "C" seats in business. AA never did. Worse yet, when we got to the airport (AFTER AA sold all the seats), I found out we were 5th and 6th on the upgrade list.
So: if there is no intent of making seats available, why string people along? What a way to ensure that a customer is royally tweaked.
If systemwide upgrades (EVIP) seats are never made available, then that further devalues the ExP status.
I love to travel for the sake of discovery, but this really makes me question why I am putting so much effort into a company that is not reciprocating.